How To Optimize Website Using Google Analytics?
By Santosh Kumar | October 12, 2022 | Search Engine Optimization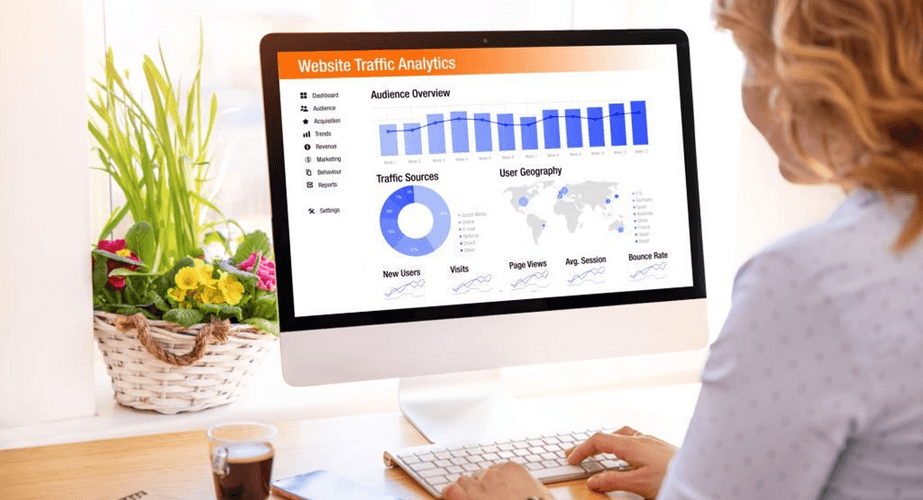 Google Analytics data is a fruit to unlock the potential of your website. The effective use of Google Analytics can help you optimize your website. Most people only use Google analytics for reports: however, it can also help you with actionable insights. But how can we effectively optimize a website using Google Analytics?
If you have not started using Google analytics for SEO, then you are missing many opportunities to rank your website. A fully optimized website is itself an amazing SEM strategy. Furthermore, a perfect website with an SEM strategy helps you in driving more traffic to your website. Also, it helps your customers to move through the conversion funnel and hence, increase sales.
In order to, optimize the website you need massive data and Google Analytics can provide the access to it. Let's find out how can we optimize a website using Google Analytics.
Ways To Optimize Website Using Google Analytics
Here are the top tips for optimizing your website based on Google Analytics:
Find the Most Searched Topics By Your User
Google Analytics reports can easily provide you the data related to internal search terms. Further, there are many official and unofficial ways to set up these reports.
Once you set up a site search in your Analytics then searching for these search terms is way more easier. You can simply navigate to behavior>site search>search terms and you have access. Most website owners are not aware of this feature and hence they are deprived of getting such meaningful data.
Some websites utilize query parameters in their URLs for internal searches by searching the data from Google Analytics. In simple terms, when you search for anything on the site, the URL automatically adds a parameter followed by the search term. These parameters can be added to the website with the assistance of Google Analytics.
Improve SEO on High-Converting Pages
Maintaining a report of your top-performing pages and identifying new opportunities for optimization is another tip for improving your SEO. Even when your pages are ranked on Google, you can make sure that they constantly remain in the top search results and bring maximum returns. With the assistance of Google Analytics, you can easily look for top-performing blogs and pages and hence create similar pages for better results.
Another benefit of Google Analytics is its content drill-down reports. It can help you track and compare your performance with your competitors. You can check specific URL page views and average time spent on the page with the assistance of Google Analytics records. To streamline the process and track the best web pages on the screen you can use the free Google Analytics content drill-down reports.
Multi-Channel Funnel Report
Google Analytics multi-channel funeral report breaks down the marketing channel and helps you in generating a better conversion. Multi-channel funnel report can help you see your previous reference that actually affected your sales.
Although the multi-channel funnel report in Google Analytics has lots of valuable information, people ignore it. So using these reports with the assistance of Tectra technology's experts can help your website grow.
User Profile Targeting & Websites Speed Insights
Google Analytics provides user profile targeting but it is slightly tricky. Conducting regular audit reports of your web page can help you in identifying high-ranked individual pages and how they are relevant to your targeted audience. You can also use different languages and tones to attract the demographic audience. Google provides you access to marketing channels and hence you can reach the benefits.
The site and page speed is other important factor to rank on search engines. Websites with high speed can get high bounce rates easily. With the assistance of Google Analytics tools, you can easily diagnose your page's speed and related issues causing the page to slow down.
Manage Your PPC Spend
Paid per click is another popular service of Google that helps your website in reaching the door of success. PPC allows a website owner to spend money on specific keywords. By investing in PPC campings you can get faster results. This is the most popular way to use Google Analytics in order to get better conversion.
PPC campings are run by most websites to improve their SEO. But, without the right PPC strategy, you might not be successful. Thus, to get the best PPC advertisement strategies, get in touch with Tectra Technologies.
These were some of the methods to use Google Analytics to optimize your website.
Final Thoughts
Google Analytics is the most powerful free tool for tracking your SEO performance. Today SEO matrix is marked helpful by many marketers. If you want to focus on specific resources of Google Analytics without juggling from one report to another, let's connect. At Tectra technologies, our team of experts work proficiently with Google Analytics and hence provide you with the best results.