How to Decide Between Custom and Off-the-Shelf Software Development?
By Santosh Kumar | November 5, 2020 | Software Development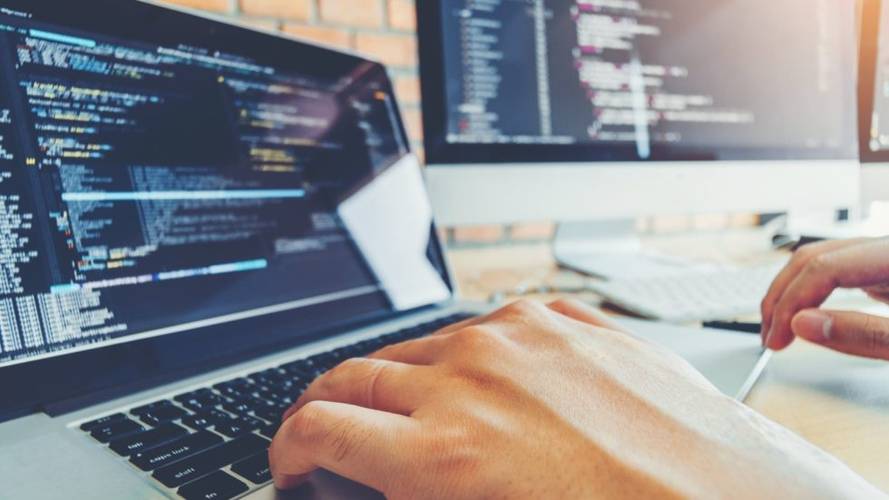 One of the many questions that come to our mind while planning to have software developed for the business' digital presence is what would be better – to build or to buy? It is very much similar to how companies decide between making a new office and purchasing an existing workspace. Are you stuck in the same situation where you are unable to choose a better option between off-the-shelf software and custom software solution?
If so, we have got your back with detailed analysis of the two based on various parameters like cost, usability, building purpose, modifications, community support, duration of deployment, and more.
Let's start with understanding the basic definitions of custom software and off-the-shelf software.
Custom Software
Custom software is the solution developed specifically to cater to the exact needs of an enterprise or organization. Suppose you are an HR of a company and want to have a unique payroll system. With your experience in the human resource department, you can decide to go with a custom software solution having all the needed features for the company's payroll system.
Off-the-shelf software
It is a readymade product. All you got to do is buy it and install to the contrary of custom software which is designed and developed for a particular set of requirements.
Example: Microsoft Office is off-the-shelf software.
Which is better – Custom Software or Off-the-Shelf Software?
The purpose of building
The first thing to consider while deciding between the two types of software solutions is what is the purpose of the system. In the case of custom software, it is built to stand by the extraordinary challenges of an individual user or organization. The system is developed to justify the specific circumstances and offer the desired solution, meeting the purpose.
On the contrary, off-the-shelf is designed and developed for a larger group of consumers desiring a standard framework for their company. It is a solution that is already developed. However, the chances of it catering to your individual needs every time are bleak. You must be very careful while choosing an off-the-shelf software solution.
Cost
Off-the-shelf software comes with a lower upfront cost as the development cost is divided among a wider audience. When looking for one, you will realize the software is cheaper initially. However, as you start using the tool or software, there will be costs to cover the inefficiencies and regular maintenance. The expense is not limited to this, but you might also need to spend in training your operations staff for operating the tool/software successfully.
Talking about the custom software, it is undoubtedly costlier upfront because it is individually developed for catering to your specific requirements which demands time and investment. Even though it is an expensive option between the two, you will mostly notice its durability in the long run. The minor maintenance operations (if required) will also be minimum. The best part is the software would be built in collaboration with the existing process. So, there is no demand for special training for your operations or technical staff.
Usability
One of the advantages of off-the-shelf software is that it is readily available. You need not wait for any development process. Anyone can purchase it and install in their respective systems to use immediately. Nevertheless, your operations team need to be technically sound and well-versed with the installation process and the functionalities of the software.
Coming to the custom software, it is built for only one company or an individual for fulfilling their particular purpose. When you go for custom software, make sure of understanding your needs and priorities clearly. It is essential to know how your end product will address the requirements. The integration and installation of a custom software solution are more manageable and smoother as it is designed in collaboration with the technical team in the organization/enterprise.
Modifications
When it comes to modifications, custom software can be modified without any hassle and remain open to expansion. To keep you levelled with the technology upgrades, morphs and various other changes, you can modify your software without hampering your business. This kind of software solution A custom solution offers the space and scope to accommodate modification according to the needs.
When it comes to modification in the off-the-shelf software, it brings along difficulties. To knock out the first issue with this type of solution is that you will need regular modification as there won't be a clear idea of how and when your business is growing. Because you will fail to control the upgrades and changes in the already developed system, you must restrict yourself with the only options available within the bought software. Moreover, for the changes to be implemented, you will need to forward a request to the software company and explain to them how their product roadmap fails to keep up with your needs.
Development and deployment time
For off-the-shelf software, the deployment time is negligible as the only work to be done is a quick installation of the already developed product. However, it can pose as unsatisfactory at times because of the standard features. Further customization and implementation of the software which was not built keeping your specific requirements in consideration can take longer than expected. It will not be as easy as installing any standard program and enjoying the output. Most off-the-shelf software products are made available to customers at monthly subscription packages because of cost dispersion. Ultimately, the model will end up costing you higher than a custom software solution.
IN custom software setup, the product is developed from scratch and might demand multiple customizations during the process. The development stage can take a few months, which might not serve as a feasible option in certain circumstances. Looking beyond these minor shortcomings, you will find a product that satisfies your purpose and saves time of training your technical/operations staff.
Community Support
The off-the-shelf or pre-built software solutions come with a support system that requires a certain amount to be paid as fees. By investing in this on-going support, you will be entitled to help in dealing with any trouble encountered during software operations. If the software user base is enormous, there would be an online support community as well.
When building custom software, there comes an advantage of communicating with your custom solution provider for quick solutions to your issues or queries. You need not look for solutions on your own, but your service provider will take care of everything.
Compatibility issues
The users with off-the-shelf solutions come across compatibility issues concluding that your business operations or devices are at the risk of clashing with the packaged products at the base level. Ultimately, it turns out to be inefficient or unusable.
As an added downside, if you miss out on a functionality keeping up your company needs, you will have to look for several commercial products to bridge the gaps. Another significant issue is that these kinds of software solutions are packed with features that might be useless for your company, thus, slowing down your system. This, in turn, leads to various other problems and fails to boost efficiency.
In the case of custom software, it fits smoothly into your business operation as they are developed based on your unique requirements.
Competitive edge
When you choose off-the-shelf software over custom, it suggests that you have something common with your rivals. You must be smart enough to understand that your innovative ideas are no more a secret for your competitors, and they can copy it easily as well.
On going with custom software development, you have a competitive edge over your competitors as the end-product is specifically designed for your exclusive needs. You remain ahead of them in the race with a customized solution for your enterprise/business.
Reliability on the software provider
When it is about the off-the-shelf software, it comes pre-developed and needs installation within minimum time. You can use it right after installation. However, the readymade solution might require customizations to be compatible with your existing systems, cancelling the speed benefit. In case you wish to add certain features to the system, you will have to hire a developer, ending up spending both money and time.
A custom solution is scalable, reliable and well-designed. It would not leave you dependent on software developers. In case you do require some support, your software development team will help you in the situation. So, it is necessary to choose a group of dependable and expert software developers.
Bottom Line
The software industry is introducing tons of software solutions on an everyday basis, regardless of its type. If you have prioritized custom solution over off-the-shelf software by now, reach out to the technically-versed team of software developers at Tectra Technologies. We would be glad to help you with the most appropriate solutions without any compromise with your company standards and requirements.