8 Reasons You Should Have a Mobile Application for eCommerce Business
By Santosh Kumar | October 31, 2020 | App Development,Ecommerce,Mobile App Development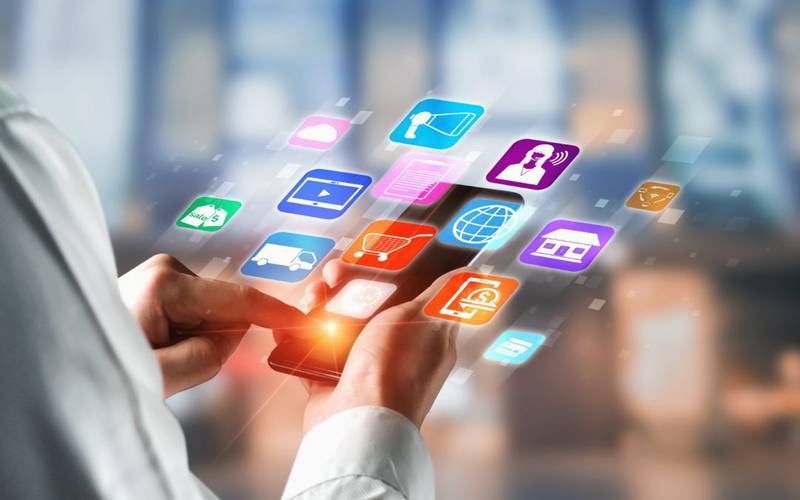 Mobile devices are the new space to look for things in the world of digitization. We mostly prefer finding things online, and mobile phone always secures the upper hand over a laptop or desktop when it comes to accessing the web. People want everything handy, and this gives businesses a chance to show up as an application in their users' mobile devices.
Going by the factual context, around 54% of all retail eCommerce will become mobile commerce in 2021. During lockdown, more and more businesses made their presence online and built their mobile application to get the maximum benefits.
Do you have a mobile application yet for your company? If not, there couldn't have been a better time than this to get your eCommerce business folded in the best way possible to make it visible for a larger audience. Get a mobile application build by app developers with the first-hand experience.
To know why, read about the reasons for having a mobile application for your business.
1.New opportunities for sale
Online shopping is more of a spontaneous act for most buyers as they tend to use their mobile while standing in a queue, getting stuck in traffic, or waiting for a friend. Buyers may open your web store in leisure, and this is the best time you can encourage them to add an item to their wishlist and make a purchase later. Push notifications are an ideal way to send alerts on your new deals and re-engage customers. With a mobile app, you give your buyers a chance to visit your web store anytime and from any place, which in turn brings you potential opportunities for sale.
2.Massive data for analysis
Mobile apps are users' first choice of searching and browsing a product, making payments and purchases, sharing notifications for products. Having a mobile app for your eCommerce business, you can gather information and analyze customer behavior to unveil the different buying patterns. It can help in creating more engaging marketing campaigns.
The mobile functionally is what backs you up for monitoring user interaction. It provides you with essential insights about your valuable customers, such as session length, audience composition, responsiveness to specific features, content, and feedback. With the correct data in hand, you can make the required changes and updates, offer customized experience, develop an extensive marketing plan and design efficient promotional campaigns.
3.Increased retention rates
Based on several studies, it is inferred that attracting new customers is almost 25 times more expensive than selling to the existing buyers. However, an increase in customer retention rates by 5% can boost your profits by 25% to 95%!
Over 38% of users go back to a mobile app for 11 or more times after installation. Given this decent number of visits, they can make one of the multiple purchases during those visits.
There's more than 50% chance of a customer's return to the app within 30 days of the last purchase. If you come across customers who don't visit you as much as expected, push notifications work as great reminders. Give away exclusive deals to attract them for buying from the mobile app.
4.Customer loyalty
One of the crucial factors of customer retention is loyalty. In the modern world with Internet available anywhere, anytime, people wish to have everything a click away and in an eCommerce business, keeping up with these expectations is not possible until you own an online store.
Your mobile app will serve to be the one-stop-shop for your customers. When they get an uninterrupted user experience on your app, they will make a purchase sooner or later. To increase the chances of purchase, you can always rely on frequent alerts of your deals and discounts. You cannot achieve this level of customer loyalty through a desktop website. Though not impossible, still a long road.
Loyalty programs tend to encourage buyers to shop more frequently and raise their average order value. Running a loyalty program efficiently built concerning an individual user can prove more effective than the one you run on your website.
5.Boost in conversion rates
The enhanced usability, UX, and smooth navigation of your app make way for higher conversion rates. The ease to access allows your user to stay on your app for long and thus, exiting with a purchase. According to research, the conversion rate of mobile apps is much higher than the responsive and desktop versions of the website. However, you need to take care of the engagement factors of your app to increase the conversion rates.
6.Lesser cart abandonment rates
Have you ever noticed a customer leaving your website from the shopping cart without making a purchase? Isn't it frustrating? It is called a shopping cart abandonment, the most annoying issues eCommerce businesses encounter. And, it is because the buyer is mostly a click away from making the payment to purchase.
Why does this happen? The main reasons behind high shopping cart abandonment rates are the extra costs/high shipping, slow processes, account creation, fewer payment options, etc., which are considered as a poor shopping experience. With your mobile application developed by experts, you can avoid this problem altogether. Simple ways like optimizing different checkout forms can help minimize the cart abandonment rate.
Another benefit with an app is that the personal data and preferences of a buyer get saved. So, the next time they shop with you through the app, the entire purchase process will take only a few clicks. No need to enter all the information again.
7.Enhanced connectivity with customers
Mobile apps have become an ideal way to interact with your customers, again, through push notifications. Here's brief information on the comparison of engagement rates of push notifications and traditional email marketing –
Studies reveal that around 30-60% of customers open push notifications over the 20% reaction to the emails. Moreover, 40% of users click to initiate an interaction through a push notification over the 5.4% of users through emails.
Reaching prospective buyers through email or social media relies on them watching your advertisement, clicking a link to reach to your website. In the case of push notifications, the messages/alerts appear straight on their home screens. All they need to do is open the notification to reach your app and buy the product.
8.Higher average order value
As afore-mentioned, buyers view more products per session on mobile applications. So, the average order value is higher when using a mobile app than responsive and desktop applications. The increased order value is greatly affected by the push notifications and the way you use them.
Make sure you don't frustrate the users with the unplanned frequency of the notifications. You need to plan the frequency an ensure you don't send too many push notifications over a short period and not lose any buyers over time.
The Bottom Line
Our marketers in Tectra Technologies create a reviving brand identity to help you communicate your business – what it is about and what makes it different from your competitors in the industry. We create a face that resonates with your target audience and displays your company values and vision.